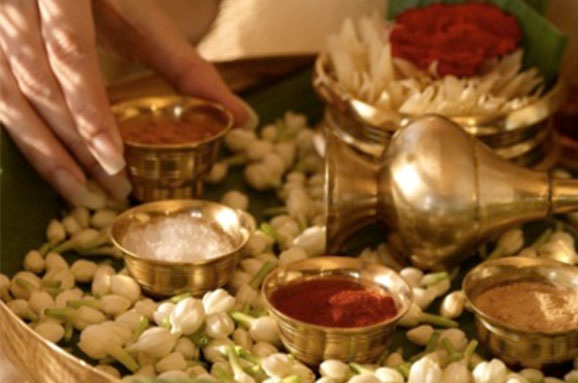 Feel royal and radiant on your special day
Bridal Package (3 days /7 days /15 days/2 months)
It is your special day and being royally radiant is all that matters. In traditional Asian society, elaborate wedding preparations for both the bride and groom are de-rigeur, and commence with the engagement. Young brides-to-be indulge in a wide range of beauty treatments using exotic herbs, accompanied by luxuriant body massages and other therapies to beautify their bodies, skin and hair and also to enhance their sensual mood. These therapies improve blood circulation and increase vitality, giving the skin a radiant and healthy glow.
we offer an Ayurvedic package that will make you feel healthy, beautiful and confident. Who is this package suitable for
Who is this package suitable for
All brides to be! It is the time in life that you must indulge in yourself and feel your best and elegant on your special day. Embark on a journey to feel beautiful, and most importantly, healthy on the day of your marriage. The package we offer makes you feel radiant internally and externally. We cleanse your system, skin, body and mind with our specially designed bridal package.
We customize bridal package for both male & female according to their skin.
Ayurvedic traditional Abhyang (Massage) with herbal steam
Shirodhara (Ayurvedic Bliss Therapy for mental Rejuvenation)
Vitamin C peel for good glow
Beauty treatments with modern machines with ayurvedic customized cosmetics
Padabhyang
Body wraps (Detoxification wrap/Nourishing wrap/Fruits wraps)
Body cleansing
Pind Swed
Panchkarma if necessary.