Our Profile
Our center is situated at the foot hills of Aravali Mountains in Abu Road. Close by is Mount Abu the only hill station of  Rajasthan .
We provide ancient Ayurvedic treatments that not only cure ailments but also improve the overall health of patients. We offer consultations, all types of Ayurvedic treatments, Panchakarma, Kerala Specialties, Garbhasanskar (Preconception Programme for better progeny), Yoga & Ayurvedic cosmetology services (Ayurvedic beauty therapies) and more. All under one roof at an affordable cost. Medication and Therapies are planned and prepared according to the requirement of the disease and prakruti of the patient.
Dr Sajjala Joshi is qualified & trained Ayurvedic doctor. She has got opportunity to learn Ayurvedic principles & treatment of various diseases from well known, well experienced, senior Ayurvedic aacharyas from Mumbai, Pune, Dhule (Maharashtra),Jamnagar, Una (Gujarat ).
The masseurs and other technical staff are professionally trained and well experienced. We offer individualized attention to personal customer service. We have separate Panchakarma Technicians and treatments rooms for male and female patients.
Along with providing better health care, Dr. Sajjala Joshi wishes to spread knowledge of Ayurveda principles to all for a healthy life as life style disorders are increasing day by day due to wrong life style. She delivers lectures to students to promote adaption of Ayurvedic life style for healthy & stress free life.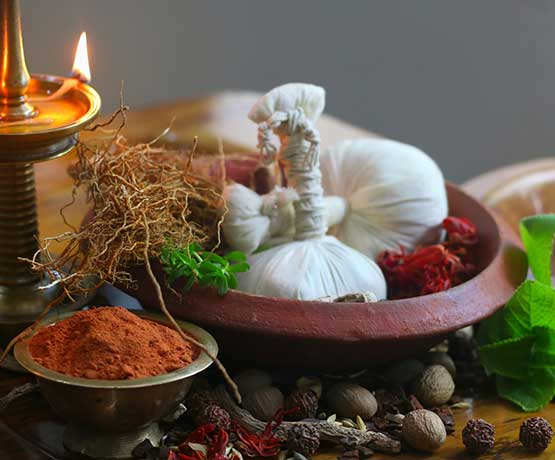 By practicing traditional Ayurvedic treatments, We specialize in treating Skin diseases – Psoriasis, Eczema, Lichen planus, Dermatitis, Vitiligo, Chronic itching & allergies. Gynecology- Fibroid, PCOD (Polycystic Ovarian Disease), Irregular Menses, leucorrhoea, Recurrent abortions, Infertility. Menopausal Syndrome. Male Infertility- Less sperm count, Abnormal sperms, Infection, Erectile dysfunction. Joint & spine- Sciatica, Slip Disc, Spinal Ailments, Spondilysis, Forzen shoulder, Arthritis & Osteoporosis etc. Gastrointestinal disease- Jaundice (Hepatitis), Hyperacidity, Constipation, Colitis, Appendicitis, Gall Stone. Urology-Kidney related disorders, Renal stones, Burning urine, Recurrent infection, Chronic kidney failure. Geriatric Ailments, Parkinson disease, Insomnia.Respiratory disease - Asthma, Allergy, Migrain, Cold, Cough, Bronchitis, Sinusitis etc. and many other ailments with their rich experience and sound knowledge of Ayurvedic herbs and treatments can help patients take the right
For prevention of disease & for being healthy, we offer panchkarma (Detoxification procedures), Anti-aging therapy, Cosmetology services (beauty therapies).
We are pioneers in Abu Road who provides best Garbhsanskar treatments (Preconception, antenatal & postnatal care ) & Baby care - Oil massage, Swarnprashan.
We do Ashwinikumar Yadnya every Sunday for cleaning of environment.

OUR MISSION
We shall spread knowledge of Ayurveda principles to all for a healthy life as life style disorders are increasing day by day due to wrong life style.
At present, we prepare 40% medicines in-house, to ensure absolute quality control and effectiveness of our medications. In the near future, we are planning to make most of medicines in house & also planning to grow most of required herbs, plants in our own farm. This will further fortify the healing powers of our medications.
We shall regularly introduce innovative therapies.
We shall work towards offering quality and research oriented ayurvedic service.

OUR VISION
स्वस्थ जीवन की शुरुवात आयुर्वेद के साथ
To integrate Ayurveda in the lives of every individual and to develop an Ayurvedic way of life.

CORE VALUES
Integrity
Transparency
Caring
Commitment
Innovation
Respect
Dr. Sajjala Joshi
---
Dr. Sajjala Joshi in Ayurtej ayurveda, she is a consultant ayurvedic physician and guides to develop many herbal product for the production unit.
She gives consultion in the Ayurtej ayurveda clinic on a regular basis. she is one of the best ayurvedic doctor in Talhati Abu Road.
Principles of Ayurved
Ayurved is based on two main principles –
स्वस्थस्य स्वास्थ्य रक्षणं!
Which means 'To prolong life and promote perfect health.And
आतुरस्य विकार प्रशमनं च: l
this means, To completely eradicate the disease and dysfunction of the body